The F1 in Schools project is a thrilling and innovative global initiative that blends the adrenaline of Formula 1 racing with the creativity of STEM (Science, Technology, Engineering, and Mathematics). Created to inspire the next generation of engineers, designers, and innovators, this educational program challenges students to design, build, and race miniature Formula 1 cars, fostering a passion for both motorsports and academic excellence.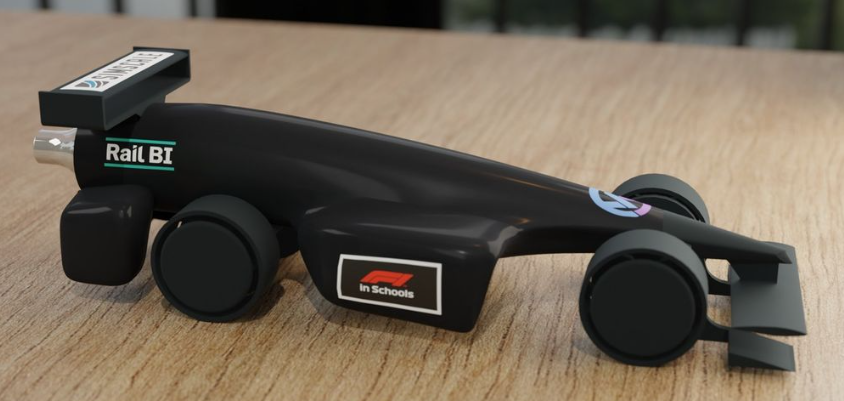 F1 in Schools is an international multi-disciplinary STEM competition for students aged 9 to 19 years old. The project's mission is to engage and motivate students to pursue careers in STEM-related fields by providing them with a practical, hands-on experience in designing and manufacturing miniature race cars. Students are exposed to the challenges and rewards of engineering and teamwork, developing invaluable skills along the way.
The F1 in Schools competition is sponsored and run by the Department for Education and involves several stages, where students form teams to design, analyse, and manufacture miniature Formula 1 cars powered by compressed air (in the form of a Co2 cartridge).
The F1 in Schools project has had a profound impact on students and educators worldwide, igniting a passion for STEM subjects and motorsports and is a remarkable initiative that seamlessly integrates STEM education with the excitement of Formula 1 racing. By challenging students to design, manufacture, and race miniature cars, this program creates a profound impact on young minds, inspiring a new generation of innovators, engineers, and motorsports enthusiasts.
Through hands-on experiences, teamwork, and industry engagement, F1 in Schools empowers students to become proficient in STEM disciplines while fostering essential life skills. As the project continues to expand globally, it will undoubtedly play a vital role in shaping the future of STEM education and inspiring young talents to conquer new frontiers in science, technology, engineering, and motorsports.
Rail BI are proud to play a part in the program by their continued sponsorship of Ventura Racing (a team run by students from James Gillespie's High School in Edinburgh).
With excellent results in 2022, they finished second in the Professional Class Regional Finals for Scotland and finished in fourth place in the UK National Finals, held at the University of Leeds.
With the support of all of their educators and tutors, sponsors and the F1 in schools project as a whole, we hope that Ventura Racing continue to ignite a passion for STEM and motorsport for years to come.
We are extremely proud of the success that they have achieved so far and wish them continued success in next year's competition and by providing an insight into the program to the new students at James Gillespie's, bring some of the most talented young minds in to the forefront of STEM careers going forward.
For more information check out https://www.f1inschools.co.uk/
Image credits: https://www.instagram.com/ventura.racing/